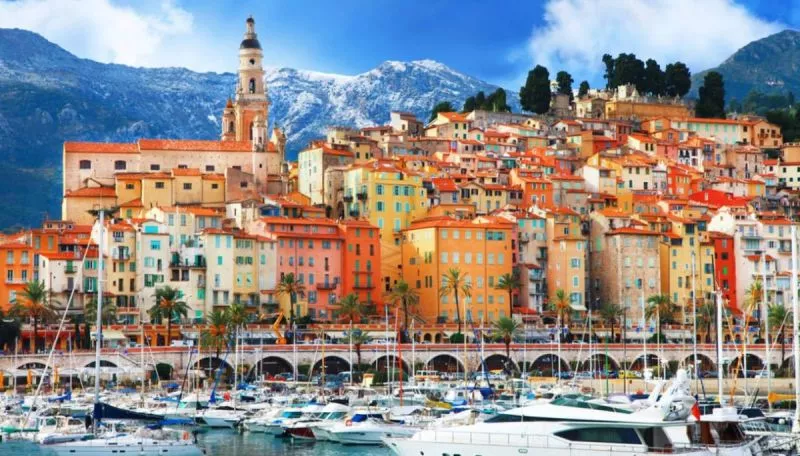 MENTON
(34 km from Sanremo)
Also known as the
""
, Menton is the gateway to the French Riviera. Protected from the mountains, this flourishing city enjoys a particularly favorable climate for the cultivation of
citrus fruits
, often being called the
""
. The wagons and sculptures that give life to
one of the most magnificent French carnivals in February
are built with
citrus fruits
. The visitor will be able to enjoy long walks along the sea or in the characteristic lanes of the old city where the bell tower of
St Michel.
EZE VILLAGE
(46 km from Sanremo)
Clinging on a spur of rock, we find Eze Village, a
picturesque medieval village
. Its small streets lead to the ruins of the
medieval castle
and the famous
exotic garden
from which you can admire a breathtaking view of the
Cap Ferrat promontory.
Shore of inlets, this strip of land is surrounded by a splendid path between cliffs and wonderful water.
ANTIBES
( 84 km from Sanremo)
where quoting Victor Hugo:
"".
Enclosed within the walls of the 16th century ramparts and a source of inspiration for many artists including
Picasso
and
Manet
, the city offers a splendid contrast between the sea and the mountains. Recommended are a visit to the
Palace and Museum of Picasso
and a walk through the colorful shops of the center, its characteristic market and the
museum of absinthe
, an ancient distillery, favored and frequented by the
""
.
CANNES
(90 KM from Sanremo)
is famous throughout the world for the
International Film Festival
, undoubtedly the most glamorous city on the French Riviera, frequented by
celebrities and journalists
. Stroll through lush hotels and historic buildings on the
Croisette
, an exclusive promenade dotted with trendy restaurants. To get away from this sumptuousness and seek tranquility, you can instead take the ferry that will take you in a quarter of an hour on the opposite
Îles de Lérins
, paradise with crystal clear water beaches.
SAINT TROPEZ
(160 km from Sanremo)
During the summer this beautiful town becomes a strong attraction for many young people but also for many Vips due to the numerous exclusive clubs overlooking the sea. But Saint Tropez is not just yachts, discos and restaurants. Towards winter, luxury gives way to a picturesque place with
pastel-colored houses
, fascinating
churches
, its
fortress
and the narrow streets of the historic center.
Land of Rosé
, visit one of the various
House
producing the best
Wines of Provence.