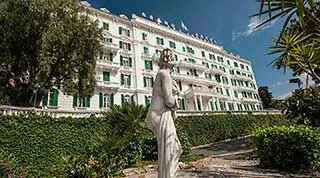 Welcome to the Grand Hotel & Des Anglais
Immerse yourself in an atmosphere of yesteryear, Bella Époque time, where bright environments, crystal chandeliers, antique stuccos and the ever smiling staff welcome you and transport you to an atmosphere of pleasant charm and relax.
It is the Grand Hotel & Des Anglais, a 4-star hotel in Sanremo, the City of Flowers, a few steps from the Casino and the famous Imperatrice boulevard.
Built in 1888, already born as a Hotel, it has managed to preserve the style and atmosphere of the time over the years, Liberty style.
Open 365 days, kissed by the sun and the gentle sea breeze, the Grand Hotel & Des Anglais warmly welcomes its customers, generally traveling peoples, business customers and families.
GREAT NEWS AT GRAND HOTEL & DES ANGLAIS: The new SPA will wait you, inspired by the Roman Domus Aurea, and the exclusive SPA ROOMS, with unlimited access to the wellness path. One of the first hotels in Italy to offer these types of rooms for a 360° well-being.
Hospitality of a 4-star hotel
The Grand Hotel & Des Anglais has 105 rooms, arranged on four floors plus a fifth attic floor connected by stairs. The hotel offers a various kind of rooms, from the majestic Presidential Suite with terrace, to the renovated Superior Sea Rooms, the Classic Sea Rooms for vintage nostalgics, the Economy Garden, Triple and Family Rooms, Junior Sauna Suites, Junior Suites and Attic and the new spa room.. The ancient splendor of the rooms is gently brought to light through a renovation, where the choice of colors and styles is the result of a complex study of the age of the structure.
Restaurant: The queen of the Des Anglais restaurant is Ligurian gastronomy, designed to satisfy the pleasures of the taste where the sea and the land create unmistakable flavors.
SPA: Back in time, the Domus Aurea was born from the ancient rock of Des Anglais, a unique opportunity to regenerate your senses and enjoy a moment of relaxation.
The 4-star services of the Grand Hotel & Des Anglais
The Grand Hotel & Des Anglais in Sanremo is a convenient solution for who want to stay in hotel with exclusive services, such as:

Enjoy Sanremo